Each of our DSEA architectural team members are experienced and knowledgeable in 3D modeling, and highly technically-oriented. Every project -no matter how big or small- is 3D modeled, enabling us to focus our attention on the details and consider every perspective.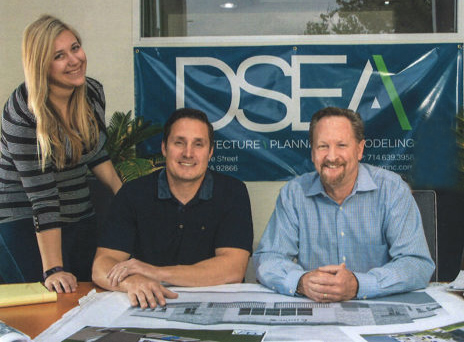 Doug Ely
Principal / Architect / Construction Project Manager
Douglas Ely is the owner and founder of DSE Architecture, Inc. (DSEA), established in January 1999. He has over 35 years of experience in architectural design, needs analysis, historic preservation, 3D modeling, quality assurance review and construction project management, and has developed a reputation for excellence and attention to detail. The consistently high degree of personal service provided by Doug and the DSEA team has created a special rapport between the firm and clients.
Doug's professional experience consists of a wide variety of project types including child care facilities, historic preservation, retail facilities, educational, commercial office, institutional, police facilities, high and low density residential, and custom residential projects. Many of these projects have been recognized with design awards and excellence in architectural design.
Doug is a Southern California native and lives in Old Towne Orange. He received his Bachelor of Arts in Architecture from California Polytechnic State University, San Luis Obispo in 1981, where he graduated with the award for the top senior for service, leadership, and attitude. Doug has been licensed as an architect in the State of California since 1984.
Call 714-639-3958 to make an appointment
Associates
THOMAS ALDRICH
PROJECT MANAGER
Tom Aldrich has over six years of architectural experience on projects ranging from healthcare design, residential projects, and educational projects to commercial retail, restaurant and office projects. Prior to entering the architecture profession, Tom worked for over nine years in the construction industry. He worked on several large-scale projects including the CHOC south tower expansion in Orange. This unique mixture of design knowledge and construction experience allows Tom to thoroughly understand what it takes to deliver projects from concept to completion.
Born into a family of artists and musicians, Tom began his education at the Arts Students League of New York before joining the Army and serving four years all around the world with the 82nd Airborne Division. He served our country in the Republic of Korea, Iraq & Afghanistan. After his term in the military, Tom moved to California and continued his education, completing his Bachelor's of Architecture degree at NewSchool of Architecture and Design in 2015. Tom's field experience has allowed him to become an expert in BIM Technology and 3D modeling. He is currently completing the required testing for his architecture license.
taldrich@dseainc.com
Call 714-639-3958 to make an appointment
MEGAN KELLY
By the time she was ten, Megan Kelly knew she wanted to go into the field of Architecture. She fulfilled that dream and earned her Bachelor of Architecture from the University of Southern California. While attending school, she was a member of Alpha Chi Omega, the USC Auto Club, and studied abroad in Italy for a semester. She also earned a minor from the Marshall School of Business in Business Law in 2015.
Megan has since been working in the field of architecture, starting as an intern to an architectural designer and then becoming a job captain. She has been working with BIM Technology for over three years and is developing her skills as a 3D modeler. Her projects range from residential to commercial, restaurants and retail. Currently, Megan is undergoing testing for her architecture license.
mkelly@dseainc.com
Call 714-639-3958 to make an appointment
JOEL CARICO
ARCHITECT / SR. CAD DOCUMENTATION / BUILDING INFORMATION MODELING
Joel Freeson Carico is a consultant with DSEA, and is a licensed architect in the State of California. He has over 35 years of experience in the planning, design, construction documentation and administration of a large variety of project types including educational, commercial, residential, military, and historic restoration and renovation.
Joel is a senior level CAD documentation expert and a Building Information Modeling specialist. He consults with DSEA and provides high-end architectural support as needed. Joel received an A.A. from Los Angeles Pierce Community College and a Bachelors of Architecture from California State Polytechnic University, San Luis Obispo.